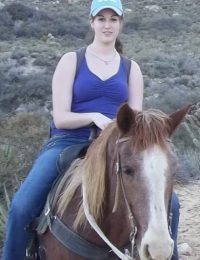 Registered Veterinary Technician
Ever since I was young I always knew that I wanted a career in veterinary medicine. I grew up in Peterborough ON and many small critters always seemed to make their way home with me. Growing up and I was fortunate to have all kinds of animals in my life from an early age such as dogs, cats, horses and whatever wildlife happened to be around. Horses have always been an important part of my life. I started riding somewhere around age ten and still ride English up until this day. I have done a bit of everything from showing to training horses to harness racing – horses are my passion. Currently I have two cats at home named Sassy (Himalayan) and Jasper (Ragdoll), fish, and even some freshwater shrimp. My other hobbies include reading, arts and crafts, camping, archery and graphic design.
I graduated from Seneca College's Veterinary Technician program in 2012 and since then I have completed certificates in both Equine Functional Anatomy and Equine Exercise Physiology at Guelph University. I also have taken a course on drawing blood from human patients should I ever decide to do something along those lines. I started off my career in veterinary emergency medicine but after three years decided I would like to do small animal practice where I have been ever since.
In March 2018 joined the team at Livingston Animal Hospital and am enjoying every bit of it.