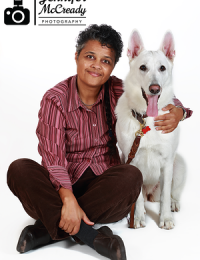 Veterinarian & Clinic Owner
Dr. Burmeister graduated in 1996  from the Atlantic Veterinary College at the University of Prince Edward Island.  Born in the UK to a Danish mother and a Jamaican father, she spent her early years living between both Denmark and England before the family moved to Jamaica, where she developed her passion for helping animals. While in Jamaica she was on the board of directors for the JSPCA and on the Executive Committee for the Jamaica Kennel Club with special interest in dog obedience competition.
Livingston Animal Hospital was started in 2004 by Dr. Burmeister and her classmate and dear friend, the late Dr. Anna Perlikowski.
In addition to enjoying  gardening, attending film festivals and cycling, Dr. Burmeister is an avid Kayaker and an active member of the Peninsula Paddlers Club. Alaska is Dr Burmiester's second White shepherd and at 4 years old is already shaping up to be a Rally obedience competitor and is presently working on scent detection.
She loves to spend time with her animals in her off hours and continues to welcome rescued animals into her home where her pets include two dogs, Tumble an adorable cat born with a neurological condition , a 53 year old African Grey parrot called Fred and an enormous Red Footed Tortoise named Rosie.
Dr. Burmeister's special veterinary interests include animal welfare issues, dentistry and the care of senior and geriatric pets.
 Dr. Burmeister is also a member of:
– The Ontario Veterinary Medical Association (OVMA)
– The British Small Animal Veterinary Association (BSAVA)
– The American Association of Feline Practitioners (AAFP)