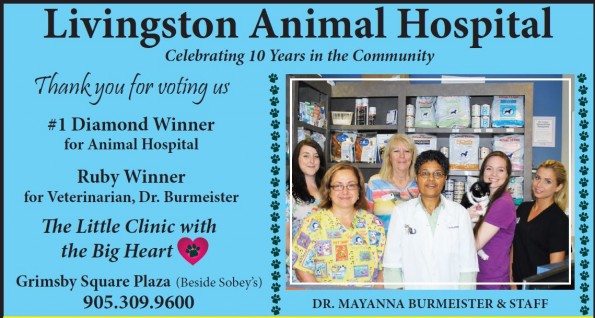 In celebration of our 10 years in the Community, we are offering a series of informative talks where all the proceeds will be donated to Beamsville 4Paws Rescue and Adoption; serving the Grimsby/Beamsville area.
Over the years, Livingston has strived to provide the best preventative care for your family pet. Do not miss out on this opportunity to gain some valuable information. The speakers we have selected are proven experts in both the traditional and alternative methods.
Our goal is to improve the total quality of life for your pets.
These talks will be held at Trinity United Church, 100 Main St W, Grimsby
There will be light refreshments and door prizes!
Fall Speaker Dates:
September 19, 2015 2:30-4:00pm Livingston's Own Tiffany and Irene- "Tales From The Whisker"
October. 25, 2015 2:30-4:00pm Dave McMahon- Dog Behaviourist
November.7, 2015 2:30-4:00pm Gary Jack- St. John Ambulance, Emergencies For Pets
Ticket Information:
Adults 19 and over, tickets are $20 each or $25 at the door. For the remaining series of 3 speakers, tickets are $50
Youth 18 and under, tickets will be $15 each
For families of up to 4 members, tickets will be $30 per speaker, or $75 for the remaining series of 3 speakers
Tickets can be purchased through Livingston Animal Hospital
All proceeds will go to the 4 Paw Rescue
Beamsville 4 Paw Rescue is a group of dedicated animal lovers who open their hearts, their wallets and their homes to abandoned, lost, and feral animals looking for forever homes.
Please click for more information about this wonderful Rescue & Adoption Agency
Spring Series: Thank you so much to everyone who came and celebrated with us! We had so much fun and learned so much!
March.7, 2015 2:30-4:00pm Dave and Kathy from Teecreek Training
April.11, 2015 2:30-4:00pm Laura Arseneau – Certified Pet Massage Practitioner
May. 30, 2015 2:30-4:00pm Hilary Watson- Pet Nutrition Consultant